The final read-through and index for Media Marathoning: Immersions in Morality are done (phew!), which means I have time for other projects. The media marathoning work inspired me to explore other related research that didn't have a place in the book. One of those projects is a study with people who have media marathoned during illness, post-surgical recovery, or other times in which they could not function at full capacity because of health-related concerns. If you media marathoned during health-related rest in the last 2 years, stay tuned for information on that study I am conducting with Judith Weiner, Senior Health Communication Specialist with Carter Consulting for the CDC.
Another project, which is now in full swing, explores attitudes toward television spoilers—and you need not be a television marathoner to participate. The short survey I created with Nazareth College undergraduates Noelle McElrath-Hart and Julia Keiper examines how the practice of watching a television show after it has aired shapes communication about the show.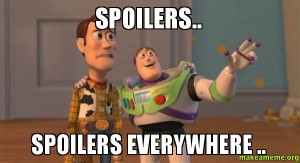 If you meet the qualifications (listed in bold below) and have approximately 15 minutes to answer questions about your television viewing and attitudes toward spoilers, please consider taking the online survey.
In the last two years, study participants must have watched a whole season of a television show after it finished broadcasting on network or cable television. Participants may have watched the season through DVD, DVR, streaming, download, a television re-broadcast, or a combination of methods. Participants must also be 18 years old.
Participants will have the chance to be entered in a drawing for one of two $25 Amazon gift cards. We aim to collect 80 responses.
The spoiler study is officially closed. Many thanks to all who participated! Noelle, Julia, and I are also interviewing media writers to gauge their perspective on spoilers. We plan to write up our collective findings in the spring and will use the blog to discuss some preliminary findings.
Comments
comments