My Media Marathoning book led to several research project "spin-offs," one of which analyzes the experiences of TV critics as they navigate the spoiler-rich television environment. I completed the final interview on June 8th. Now bring on the writing!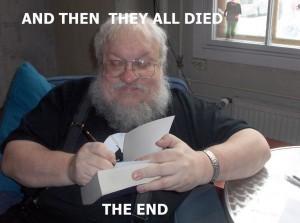 I am grateful that the following kind people gave me their time for an interview:
Gina Carbone, freelance pop culture writer for Wetpaint and Moviephone
Eric Deggans, TV critic for National Public Radio
Jeremy Egner, culture web editor for The New York Times
John Jurgensen, entertainment journalist for The Wall Street Journal
Margaret Lyons, TV columnist for Vulture
Sean O'Neal, senior editor for The A.V Club
James Poniewozik, TV critic for Time during our interview, now chief TV critic for The New York Times
Maureen Ryan, TV critic for The Huffington Post during our interview, now chief TV critic for Variety. 
Alan Sepinwall, TV critic for HitFix
Hank Stuever, TV critic for The Washington Post
Todd VanDerWerff, culture editor for Vox
Angela Watercutter, senior associate editor at Wired
I found the interviewees to be witty, insightful, and humble. Lucky for me, they were also very quotable. (Note to self: writers make excellent interviewees.)
The essay will contain much more detailed analysis, but for now I will report that most of the writers I interviewed do not want to upset you with spoilers, dear readers. They love TV and respect your love for TV. They also want you to respect their work–by catching up on your beloved TV shows in a reasonable amount of time, avoiding recaps and other spoiler-laden pieces if you haven't yet viewed, and being open to the idea that watching events unfold is a lot more meaningful than knowing what happens.
With those suggestions in mind, perhaps we can all do our due diligence and be more thoughtful before crying "Spoiler!"
Comments
comments