From Carissa Risucci:
Throughout the course of this semester we have undoubtedly and comprehensively covered the addictive tendencies of marathoners and their compulsion to obtain as much information as possible about a narrative world. We haven't, however, uncovered where the breaking point in this process lies. In other words: when does so much exposure become too much exposure?
I have been a loyal Grey's Anatomy viewer from the start of the first season in 2005. I watched the episodes weekly with my mom and marathoned multiple seasons during every school vacation with my sister. Seven years and nine seasons later, I am still a loyal viewer and still making the effort to engage with the world but I am beginning to feel a disconnect. I am starting to question whether this long-term, committed relationship has run its course? Am I ready to break up with Grey's?
My rationale of course tells me I never will. As long as Shonda Rhimes continues writing, I will continue watching. As we have discussed in class, I have invested far too much to turn back now; I need to see it through for closure purposes as well. But I do see myself developing a greater critical distance over time (particularly when it comes to my disbelief over the amount of internal tragedies the hospital faces). Our "puppy love" phase has sadly come to a close and I have to examine the show for what it truly is: my good ol' ball and chain.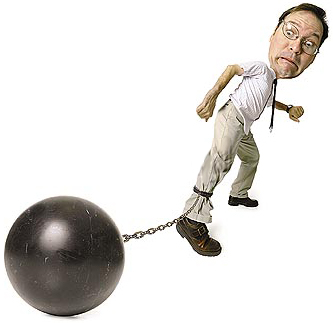 An interviewee of mine has a similar perspective on his relationship with Harry Potter. Having marathoned the series so many times, he finds the characters "dead to him". My analysis tells me that our love for people in the real world grows over time, but our love for fictional characters in a narrative world has the potential to become stunted. Can we have too much of a good thing when it comes to marathoning?
Comments
comments