I need to weigh in on a book cover design Monday morning, and I'd like to poll the audience. (I already used the "phone a husband" option and that didn't give me a clear answer.) Even if you don't know much about graphic design, give me your gut reaction if you are so inclined. You can vote on the poll below or contribute a comment if you have more to say.
I'm ideally looking for a cover that is aesthetically pleasing and that accurately represents the focus of my book. I know that stock photos look like stock photos, but it's what I've got to work with. Here's the book overview before I present possible covers:
The popular press is abuzz with accounts of "binge-watching," a verb that made the Oxford Dictionary's short-list for 2013 word of the year. This book analyzes readers' and viewers' sustained and immersive forays into story worlds, but rejects the negatively-connoted phrase "binge-watch" in favor of "media marathoning." Rather than view these media experiences as mindless indulgences, "media marathoning" connotes a conjoined triumph of commitment and stamina. Media Marathoning: Immersions in Morality is the first sustained scholarly study of this intense, pleasurable relationship between reader and story world
As digital technologies facilitate easier, user-centered access to media texts, narratives increase in complexity, and more readers seek engaged story world experiences, marathoning looks to be the new normal of media engagement. Drawing from qualitative studies of book, film, and television marathoners, along with textual analysis of commonly marathoned stories, this book presents a holistic look at marathoning's cultural impact.
This book argues that the practice of media marathoning invites readers to place themselves in the story and negotiate the nuances of morality. Compared to more traditional, slower-paced media engagement patterns, media marathoning affords readers greater depth of story world engagement, maximizing the emotional and cognitive rewards of the media experience. Through our immersive marathoning experiences, we can seriously engage with mediated questions about human nature and society, refining our orientation toward morality through internal dialogue about the story and communication with other readers as we process the meaningful journey.
The covers won't look exactly like this, but the mockups give a good sense of the finished product. (And don't worry, Mom, my maiden name will be included.)
COVER 1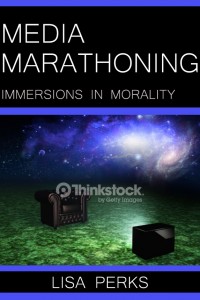 COVER 2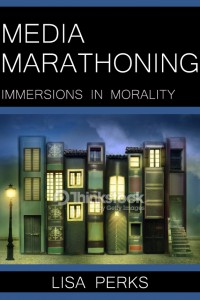 Thanks for your help!
Comments
comments