After years of media marathoning and not running a marathon, I can now say I've done both. I raced the Mohawk Hudson River Marathon in Albany, NY on October 13, 2019.
Running a marathon doesn't connect to this blog in name only: running has been an influential part of my professional life. Briefly, here's why. (If you're here just for the race report, think of this next part as the boring story about Aunt Edna's apple pie before you get to the actual recipe.)
Translatable Skills
My Merrimack College Communication and Media seniors recently turned in cover letters and resumes. We've spent time discussing how their campus involvements (including athletics) nurture skills that "translate" to professional positions after graduation.
I've run (with varying levels of commitment) since middle school. Running has taught me perseverance, time management, stress management, and how to build incrementally over time toward a major goal. These are the kinds of translatable skills that young adults can talk about in an interview or maybe even in a cover letter if it suits them.
One of the most tangible connections between running and the professional sphere is you can't "cram" for a big race; you really have to put in the work over time to yield decent results. In graduate school, I took each seminar paper, thesis, and dissertation paragraph by paragraph, section by section, chapter by chapter. All-nighters weren't part of my life. If I hadn't learned that training "run by run" for a race is the best way to go, I may not have understood just how important each bit of incremental progress is to the big picture. I used that logic to write my Media Marathoning book over several years (with charts to map out those little goals and visualize the progress). Bird by Bird is a fantastic book to encourage any writer to adopt this strategy.
Now onto that recipe race report.
Marathon Race Report
Training. I ran steady mileage for several months, ramped it up in the spring, and got into the serious marathon training in the summer–with a plan from my husband Josh who is an excellent runner and has spent a lot of time researching training strategies.
Three months before the race I had built up to 2 hour long runs. Two months out it was 2:20-2:40 (with some 16 and 18 milers). A month out (September) long runs were 16, 20, 21.5, and 16. My peak week was 55 miles. It was honestly more physically and mentally challenging to jump up to the 12 and 16 milers. After that, the 18 and 20 milers weren't bad.
Josh had me do a few workouts at race pace in the middle of the week (mostly in August + September). They usually went something like 2 mile warmup, 6 miles at race pace, 2 mile cool down. My legs are slightly different lengths, so I'm injury prone. I was surprised that I stayed healthy through it all (aside from some hip and calf tightness that my fantastic Active Release Therapist worked out).
Fuel. Fueling before and during the marathon was a big blind spot for me, so here are some highlights of what I learned and did. I ate a lot of protein (thank you, hens) during the taper to help my body heal from all the training. The morning before the marathon, Josh also prescribed this to pump up my cells with glycogen: a warmup of 2 miles, 2 minutes (trying to hit) 6:30 pace, then a brief jog, a sprint, and warm down followed by a concentrated gatorade (10 tablespoons of gatorade powder in 16 ounces of water). Dinner the night before the marathon was a steak, potatoes, and green beans. Breakfast was my usual: yogurt, berries, and granola + black tea with milk and sugar.
I took one energy gel 15 minutes before the race and pinned 4 others to my shorts to be consumed at about 40-minute intervals. When I got down to 2 left, eating a whole gel packet just felt like too much, so I took half at the water stop and nursed the rest of it as I ran. If I wasn't grabbing water to go with a gel I took gatorade at the stops.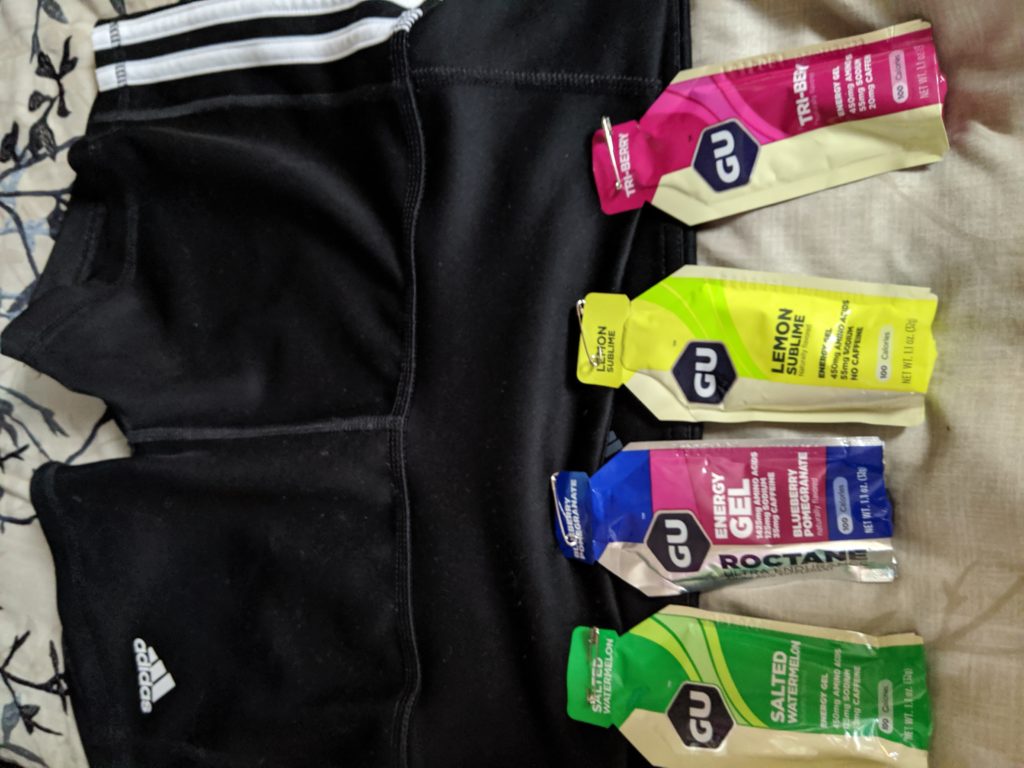 Needing to use the bathroom during the race was a concern. (I was glad not to read Stephanie Bruce's story about pooping her pants in Chicago until after I finished my race.) But all was well for me on that front. I did use the bathroom 2x in the 30 minutes before the race started, which helped. And I made a last-minute switch to all GU after training with Huma a bit and finding that Huma tasted way better but gave me some heartburn.

Race Plan. One of the most persistent pieces of marathon advice I read was that going out too fast could make the wheels come off at the end. Coach Josh and I thought 8:05 for the race (even splits) would be perfect. My goal was to qualify for Boston in 2021, and to do that I'd need to finish around 3:38. (The true time is 3:40, but people aren't getting in unless they are at least 90 seconds under.) 8:05 pace would leave a nice cushion.
Welp…my watch didn't capture the first mile properly, so I ended up going out in 7:45 while the watch said 8:45. (Note: give the Garmin more time to find satellites in a new place.) I re-calibrated by hitting the split button at mile 3 and getting accurate information after that. The beginning miles just cruised by at around 7:50 pace. I kept trying to slow down (the Revivalists' All My Friends is actually the perfect metronome for my 8-minute cadence), but the faster pace just felt right.

The Mohawk Hudson course has a nice overall elevation drop, but the middle miles have some decent inclines. I hit 8:05 pace for a few miles in the middle and was totally fine with that. The focus was on staying steady and not working too hard.
I'm writing this race report in part to counteract all the horrors I heard before doing my first marathon. Stories about bonking, hitting the wall, cramping, and crawling abound. Walk Pray Cry could be the new Julia Roberts marathon movie.
So here's an unpopular take: I felt good throughout the race. When Josh and the kids cheered for me at mile 20, he said "It's just guts from here on." Although that's not precisely true, the words gave me a push. My quads were still firing, and I had energy left, so I picked up the pace. (Now might be a good time to confess that I splurged on those expensive running shoes and felt good wearing them in the race.)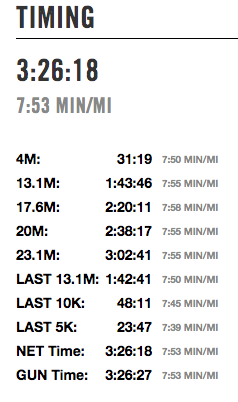 Going too fast could still have gotten me in trouble at the end, but 7:45/7:40 pace was reasonable. As the stats show, I negative split by about a minute (which means my second 13.1 miles were about a minute faster than my first 13.1).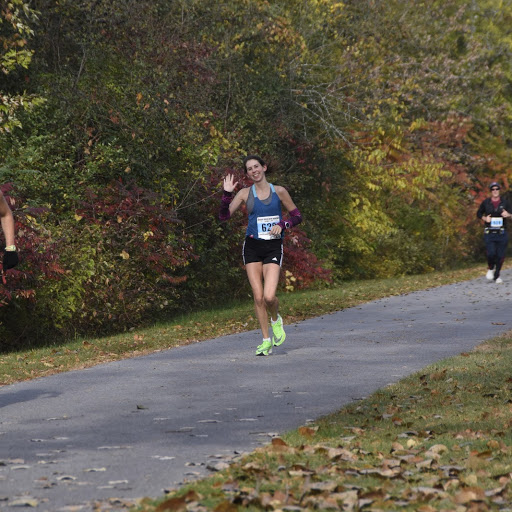 In sum, I listened to my body, kept an easy pace in the middle of the race, trained and fueled according to plan, and did what I could at the finish. My time was much better than I hoped. As I cringe at the sight of stairs in the marathon aftermath, I'll hang onto that feeling of accomplishment.
Comments
comments