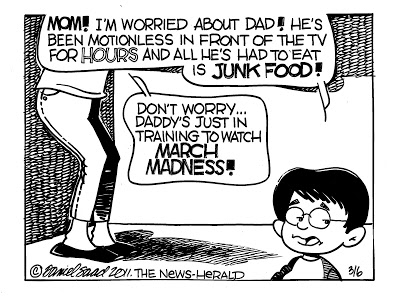 We have no bank holidays in mid-March, but March Madness is a media equivalent. The festivities tipped off today (go Georgetown), with 60% of respondents of an online MSN poll reporting that they would fill out a bracket. My first experience filling out a bracket was at Penn State in 2003. I finished near the bottom, but selecting and updating my bracket was so exciting that I always look forward to this March ritual.
This blog is dedicated to media marathoning, and while I don't consider watching basketball for hours a media marathon, the practices do have one commonality: they are media events.
I use the phrase "media event" as it is defined by Dayan and Katz (2000). The authors explain that "The most obvious difference between media events and other formulas or genres of broadcasting is that they are, by definition, not routine. In fact, they are interruptions of routine; they intervene in the normal flow of broadcasting and our lives" (403).
Marathons can undoubtedly interrupt our lives (if we let them). Many media marathoners have reported ignoring regular responsibilities such as cooking, cleaning, working, and parenting. Netflix even strove for this impact as it created a top-down media event with the all-at-once release of House of Cards. Producer Beau Willimon laughed that, "Our goal is to shut down a portion of America for a whole day" (quoted in Stelter, para. 4).
Recognizing that March Madness was a media event that divided my Penn State students' attention, I allowed one student in each of my public speaking courses to announce updated basketball scores between speeches. Those in the working world who want to pretend to be responsible can put a Boss Button on their browser to quickly switch from game coverage to perpetuate the appearance of productivity. Come to think of it, the Boss Button is also a good tool for at-work marathoners.
One of the benefits of giving yourself and your time over to a media marathon or March Madness is that you're in the know. You can knowledgeably engage in conversations about the texts that you're consuming–whether they are fictitious or sports-related. And if you're an avid media consumer who doesn't know much about March Madness, here's a Star Wars tutorial to help you understand the tournament in a familiar language.
Comments
comments