Dr. Lisa Glebatis Perks
Associate Professor of Communication Arts & Sciences at Merrimack College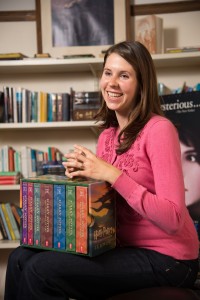 When I was growing up, a television was usually turned on in my house during all waking hours. Our house also had a 1:1 person to television ratio. I watched a lot of television, loving its presence in my life, the relaxation it afforded, and the new worlds it opened up—but I didn't always like what I saw.
The enduring focus of my scholarship is on mediated meanings and meaning-making practices. All of my scholarly work orbits around core questions of power and culture, using my rhetorical criticism skills to analyze mediated texts and discourses of audience reception.
In the last several years, my research has evolved from a primarily text-based approach to a multi-methodological approach that crafts a dialogue between textual and audience discourses. Media Marathoning: Immersions in Morality is illustrative of that evolution. With Media Marathoning in print, I'm now able to turn my attention to a variety of research projects that were either put on hold because of the book or inspired by the book. Researching media marathoning has led me to explore spoiler temporality in the digital era and how people use marathoning to cope with illness and post-surgical recovery.
Thanks for checking out my blog. Please post comments, contact me at perksl@merrimack.edu, or see my CV below for more information.